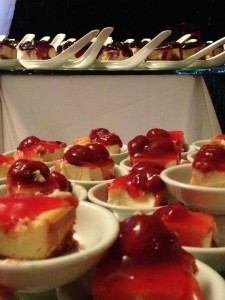 Tio Julian's Catering Services is committed to total client satisfaction. Exceeding their expectations and moneys' worth.
They boast a wide array of sumptuous dishes from Continental to Asian Fusion. Traditional to Nouveau Filipino Cuisine. Authentic tastes and flavours , or adjusted to each and every client's palette. Tio Julians is confident, each dish will be received with remarkable praise.
All these, added with exquisite service by well trained and courteous staff , carefully and well planned event at a cost that is absolutely reasonable and within reach by conscious clients. No reason to doubt any event catered by Tio Julians linger in their clients' and guests' memory with a smile, long after every grand celebration is over.
For years, Tio Julians adherence to topnotch quality and customer appreciation is the center of every event coupled with a friendly client rapport are additional secrets to its success.
All these are upheld and engraved to its core. Trends in the catering industry may change in time but surely Tio Julians commitment to clients will forever stay.
CLICK from the carefully planned packages to suit your needs and requirements:
WEDDINGS

ULTIMATE
PREMIERE
SPECIAL

OTHER OCCASIONS
CUSTOMIZED MENU
CORPORATE
BUDGET AND PACKED MEALS
HORS D' OEUVERES AND COCKTAILS
THE LAKESHORE WEDDINGS
      The Lakeshore Pampanga is one of the premiere destinations in the region. We are proud to be one of its accredited caterers.
      LAKESHORE WEDDINGS
PEARL MENU
EMERALD MENU
SAPPHIRE MENU
DIAMOND MENU
TIO JULIAN'S LAKESHORE ULTIMATE
For inquiries, please Contact Us